With a great balance of price and performance, PVC, or polyvinyl chloride, fabrics are some of the most frequently used materials in the tensioned structure industry. For projects with less stringent fire code compliance issues, seasonal application, or a lower life span requirement, it's often the best choice. PVC membrane is commonly treated with a protective acrylic or PVDF top coat with a typical design life of approximately 15-20 years. In areas of high UV exposure, PVC's life span is approximately 10-15 years. The fabric's top coats generally have a 15-20 year warranty from the manufacturer and depending on fabric thickness required, light transmissions range from 5% to 10%.
For projects that require higher design loads, high strength PVC membranes are used and are able to span longer distances compared to low strength PVCs. These fabrics are economical, fire retardant, printable, and recyclable. Combined with proper top-coatings, PVC fabrics have significantly improved fire behaviour, resistance to the impact of UV rays, and general longevity. Most often used in white, high strength coloured PVC membranes are not available off the shelf, and would require a premium and minimum quantity buy.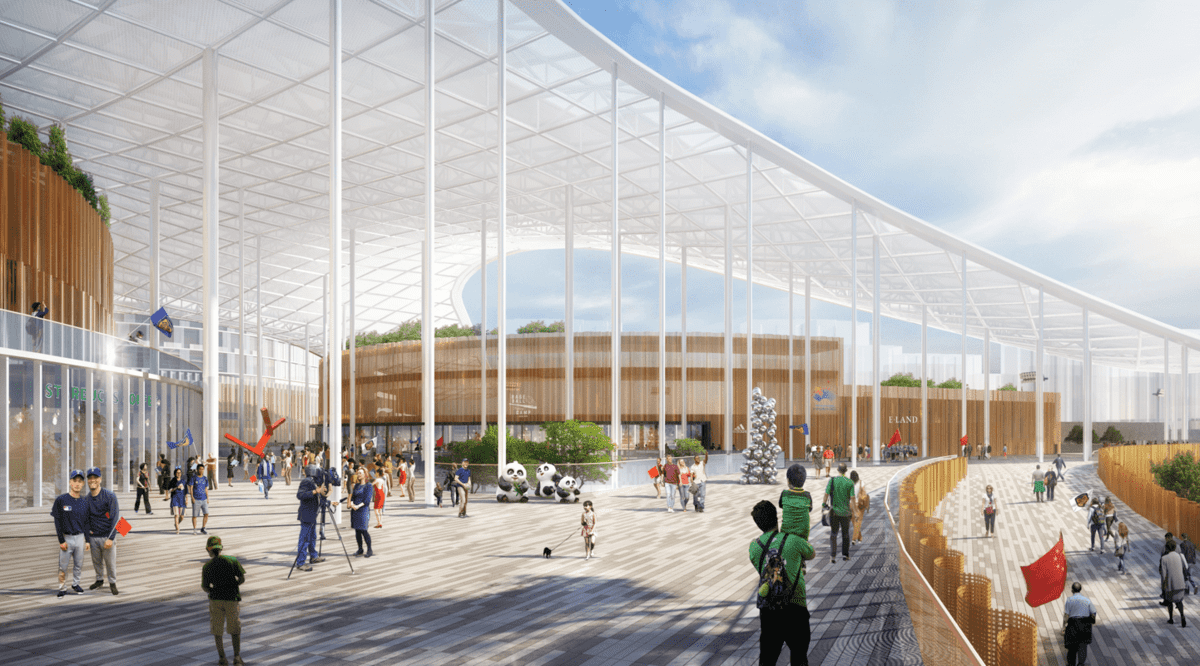 PVDF Coated PVC Mesh Fabric
Available in a variety of colours
2. While only for long spans over 10m
3. Use two layers for double wall effect.
4. Warranties max out at about 10-12 years
5. Great choice for low slope designs and vertical claddings
6. Porosity eliminates ponding issues, better for air ventilations
7. Breaths to cool enclosure.
PVC membrane Light Weight
Light-weight PVC coated Polyester fabric are generally used for short span tensile structures or framed fabric structures. PVC membranes can be sealed together using HF (High frequency) or they can be sewn like HDPE fabrics. HF sealing heats the overlap seam from the middle like a microwave so a strong chemical bond occurs. These fabrics are available off the shelf in cut yardage, so this helps with availability and cost. There are hundreds of colours available. Here are some of the most reputable manufacturers and respective products:
Eg: Serge Ferrari Precontraint 502 / 402 range of fabrics …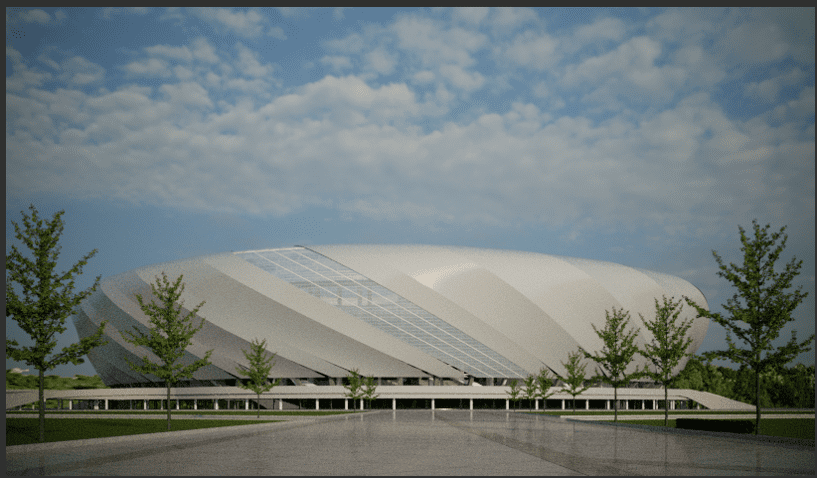 PTFE Coated Glass Fibre Fabrics ( Poly Tetra Fluro Ethelene)
PTFE Coated Fiberglass is considered one of the most durable materials in the fabric structures industry with a life expectancy of 50+ years, PTFE, or polytetrafluoroethylene, is a Teflon™-coated woven fiberglass membrane. It is an extremely strong, up to 500 Kg per Square Meter. Due to low surface energy from its chemically inert coating, PTFE membrane is capable of withstanding extreme temperatures and is easy to maintain and keep clean. It is also completely immune to UV degradation. Whether it's for an enclosed structure or a fabric building façade, PTFE-coated fiberglass membrane is a popular option as it passes the most stringent fire code compliance tests, including ASTM E-126 and is Class A fire-rated. Depending on fabric thickness required, light transmissions range from 12% to 17%. The fabric has a 15 years 100% warranty and 20 years reducing warranty. PTFE membrane is installed beige in colour but bleaches permanently white with sun exposure. Coloured PTFE membrane is not available off the shelf, and requires a premium and a purchase of the entire fabric lot.
These fabrics are available with manufacturers from Germany, Japan and US
ETFE Foils ( Ethyl Tetra Fluro Ethelene)
1% the weight of glass and up to 95% light transmission.
As an incredibly lightweight material, ETFE offers savings by being able to reduce both the size of steel and the size of foundations.
A smart solution for spanning large spaces.
Ethyl Tetra Fluoro Ethylene (ETFE) is a clear polymer that is extruded into a thin film (or foil) which is used to form either a single layer membrane or multi-layer cushions supported in an aluminium perimeter extrusion.
Lasting 35+ years, ETFE is built to last. ETFE can be clear, tinted with colour or fritted where a pattern is printed on the surface to reduce light transmission. It is unaffected by UV light, atmospheric pollution and other forms of environmental weathering.
The most common usage of ETFE Foils are multi-layered cushions. Cushions are kept continually pressurised by a small inflation unit which maintains the pressure around 200-300Pa giving it structural stability, and insulation. Power consumption for the inflation unit is between 60-100w.
Alternatively, single layer ETFE does not require any inflation, making it a simple, economical solution for creating bright covered spaces.
Minimal Maintenance.
Because the surface of ETFE is smooth, environmental pollution and algae do not stick to it. ETFE self-cleans in the rain and requires minimal maintenance inspections.
ETFE is shatter resistant making it a first choice in transportation hubs, shopping centres, schools, and hospitals.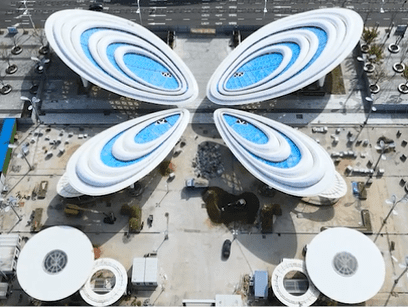 HDPE Fabric ( High Density Poly Ethylene Fabrics )
HDPE Shade Cloth is typically used when the shade is the primary requirement and waterproof fabric is not necessary. Shade cloth is knitted as opposed to woven like most other fabrics. The fabric is relatively inexpensive and with several manufacturers, there are dozens of colours to choose from.
This material is not highly durable and not water proof. Therefor we recommend only for the shading purpose only. Also this materials can be used for fencing which can provide privacy inside of the cladded areas.